In "Our House" between the Dining room/Entry and wet bar, (which we refer to as 'the coffee bar' because that's primarily what we use it for) leading to the kitchen, is this charming vignette. (If I do say so myself.)
I've mentioned before that it's the juxtaposition in decorating that interests me, and this vignette is a prime example of that.
The particularly symmetrical placing of everything and beautiful oil painting, and even that gorgeous Lennox anniversary bowl in the cupboard my husband gave several years ago are all quite formal, yet those items in this grouping are juxtaposed, or contrasted with, the very old primitive cupboard as well as the almost comical 'rooster' theme.
When I got this cupboard at a garage sale, there was nothing in the door, I had an old screen from a window and cut the screen and tacked it in with some quarter-round scraps, so total cost including the cupboard was $5. (The previous owners didn't even understand why I like this cupboard.) As you can see from the top, it is very primitive!
I repeatedly reinforced the symmetrical positioning, and you will notice, it's symmetrical on the wall, not the floor due to the stairs from the coffee bar coming into part of that space on the right.
When we changed this space from a garage to a dining room in "Our House", we had to create this bumped out wall in order to make room for utility lines and plumbing to come into the space. So with that unexpected element, we created an asset in the room by installing this ledge. I repeated the stone wallpaper as is in the seating area around the corner, and finished the ledge top to match some other ledges we have in other parts of the house so it connects with those.
Above the cupboard are this set of 4 rooster bowls my daughter gave me a few years ago, and this gorgeous silver leafed framed oil painting. The mouth watering grapes look so real you'd swear you could pluck them right off the canvas.
This shows the angle looking down from the coffee bar toward the French doors that lead to the living room, just to your left is the dining table, and around the left corner is the seating area in Chapter 1. (I'll get the the table in a post eventually. Yes, this is a dining room with a table. 🙂 It's just that I have stockpiled plumbing and electrical supplies for "The Little Brick Cottage" in that corner and haven't been able to get a good picture.)
Aren't these bowls so charming? My daughter knew I'd love them, and she was right. I love too that I think of her and smile every time I look at them.
http://www.iheartnaptime.net/sundae-scoop-link-party-16/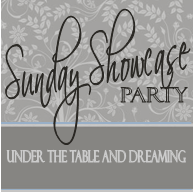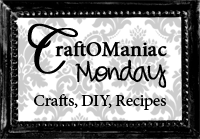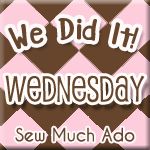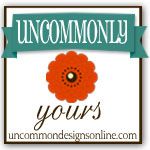 http://www.bluecricketdesign.net/
http://www.fivedaysfiveways.com/
http://www.remodelaholic.com/2012/02/love-your-home-printable-and-ra-109/
http://www.shabbynest.blogspot.com/

http://tatertotsandjello.com/2012/02/weekend-wrap-up-party-and-100-craft-pack-from-mindys-minute-market.html
http://funkyjunkinteriors.blogspot.com/2012/02/my-route-66-cupboard-and-link-up-to-be.html